Ever asked the question, "What do fashion bloggers do?"  Do they sit around taking Instagram photos of fancy food, sipping designer coffee and only occasionally doing any real work?  Nope.  My days are way crazier than that.  Follow me for a day to see what it's like.
What Do Fashion Bloggers Do:
I mentioned in the video that this was a bit of a strange day, so how does this day actually stack up?
I actually got a workout in.  Usually, I don't get to do Barre workouts.  I typically, when not pregnant, do barre workouts 1-2 times per week.  Cardio is too important when you're glued to a computer all day, so I bought one of these babies:
I use it nearly every day.  I feel like it does a great job of keeping my legs toned.  A lot of blogging is work that I can do while on a bike, if I could get my computer with me.  Now I can.
I had a doctor's appointment.  Because of the Ehlers-Danlos Syndrome, I have to have checkups with the OB every two weeks right now, so I feel like every time I turn around, it's time again.
I actually got to do some sewing.  On an average day, that time would have been spent writing content, but you guys don't want to watch me sit and type right?
Pinterest usually gets about 20-30 minutes of attention and a few times a month, I spend time working on marketing; creating ads and things like that.  Bloggers have to devote time to growing the blog, or it doesn't make for sustainable income.
It's worth noting that I didn't finish most of the posts that were supposed to go up while we were gone.  C'est la vie.
How did the Sewing Projects Go?
The Palazzo Pants fit.
They were so comfy on the trip!
The Romper was a huge hit!
I could seriously live in this Kimono
.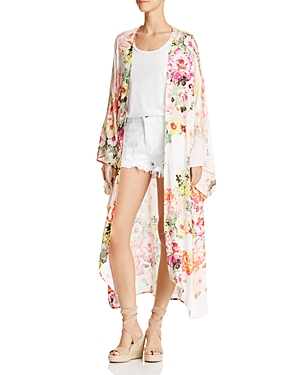 I basically did live in it.
Non-Maternity version of the x REVOLVE Sabina Maxi Dress
After I adjusted the fit to make it a maternity dress.  It worked out well and you definitely can't tell it's two pieces (shirt and skirt).

I'd say this was a successful day off work.  BTW, to my fellow nurses, Happy Nurses Week!  Is my day "off work" what you thought it would be?
XO,
The Luxicon
Kate Thakkar