When it comes to swimsuit cover-up styles, I won't wear just anything.
Let me explain.  I'm not a style snob.  It's not about how much it costs, it's about quality, versatility and personality.
Quality Swimsuit Cover-Up Styles
Many of the swimsuit cover-up on the racks look as though I could have made it in ten minutes or less.  You know what I mean, the ones that look like a poncho with the sides stitched up.  Odds are, if I could make it that fast, the manufacturer made it even faster.  Where's the interest in that?  I want some kind of interesting details, that's what makes it feel unique to me.  Fortunately, there are plenty of quality cover-ups to choose from this year, like all my picks below!
Versatile Swimsuit Cover-Up Styles
Versatility becomes important when you're going to be out all day and will likely end up at a bar or restaurant for lunch or dinner.  Most beach towns are fine with beach attire for casual dining, but sometimes you don't want everyone to see your entire bikini while you're trying to eat.  It is after all, a coverup.  This year boasts lots of shirt dress cover-ups and caftans that aren't completely transparent for a more versatile look.  Simply add a belt or tie and you have an enviable, brunch-to-beach look.
Lauren Ralph Lauren Crushed Cotton Camp Shirt Swim Cover-Up
 is a timeless and effortless cover-up.
Tommy Bahama Geo Print Boyfriend Shirt Swim Cover-Up is a fun take on the shirt-dress cover-up.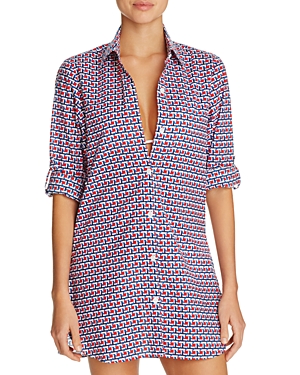 Muted colors are also in, you'll notice lots of white and chambray cover-ups, which makes for great transition pieces.
  These on-trend cold-shoulder mini dresses bring the heat.  Not to mention, they are an easy look to pull off.  Add accessories, chunky earrings and wedges, and no one will even know it's a cover-up.
Pampelone For Mini Dress Swim Cover-Up
Pampelone Bardot Off-The-Shoulder Dress Swim Cover-Up
Cover-Up Styles with Personality
If it doesn't speak to you, is it really worth your money?  I use cover-ups year after year.  Each and every one I own is unique to my style and personality, which means they don't go out of style.
PilyQ Noah Tunic Swim Cover-Up
 also offered in white and black has a unique pattern that will surely garner attention.  While you may not walk into an upscale casual restaurant without a few glances in your direction, you will be able to wear this year after year.
Enjoying this post?  Pin it!
I practically lived in the Yfb On The Road Raven Kimono
 on my last vacation.  Knowing I'm about to 'pop,' I didn't want to purchase a cover-up this year that would only get me through June, so I searched kimonos.  What a great buy!  Never underestimate the value of a great kimono.
Floral print was perfect for the beach.
And all the colors made it easy to match all of my bright vacation outfits.  I put it over so many outfits for that extra bit of trendy flare.
Shop More Swimsuit Cover-Ups
Need a swimsuit too?
Shop my 2017 Swimsuit Guides:
Swimsuit Guide for the Beach Body in Progress… Spoiler alert!  Lots of Rashguard suits!
Where to Shop for Unique Swimsuits
Modest Swimsuit Shopping Guide
Small Bust Swimsuit Shopping Guide
Large Bust Swimwear Guide: What to buy.  Where to buy.  How to style.
Swimsuit Guide for the Gal with Big Hips
Sexy Swimwear Guide:  Slay, Slay, Slay
Whew! that's a wrap for 2017 swimsuit guides!  Happy Shopping!
What's your favorite beach accessory?  I'm thinking of getting one of those big round Turkish cotton towels.  Oh lala.
XO,
The Luxicon
Now you can follow me on BlogLovin' too!
Kate Thakkar