It has finally become a wonderful time to shop for plus sized swimwear.  These days the selection seems endless, but not so long ago, the options were few and far between.  It used to be that if you were a plus sized gal, you were relegated to a small selection of floral printed, ruched, and ruffled suits.  I've curated a list of my favorite suits that actually have flattering, fun and flirty details.
 This Strappy Triangle Bikini Set, $19.99 is very sexy with the cut outs.  I love seeing plus sized women in two pieces.  Fashion is for everyone!
Striped Long Line Bikini really accentuates the hour glass figure by contrasting the stripes over the bust.
If your interested in showing a little less skin, consider mesh cutouts like the ones on this Anne Cole Mesh Insert Plus Size Swimsuit, $84.  The mesh is actually quite flattering and concealing.
Blouson Swimsuit, $79 is a lovely alternative to the waist cinching shape wear suits.  It can be miserable to be confined to a tight suit and run around with kids or worse… eat lunch.
Mesh Lined Side Cut-Out Suit, $89.5 is a fresh take on the little black suit.
Color-blocking, like this Womens Plus Size Color Block Strap One-piece Monokini White, $17.29 is the effortless way to shed pounds.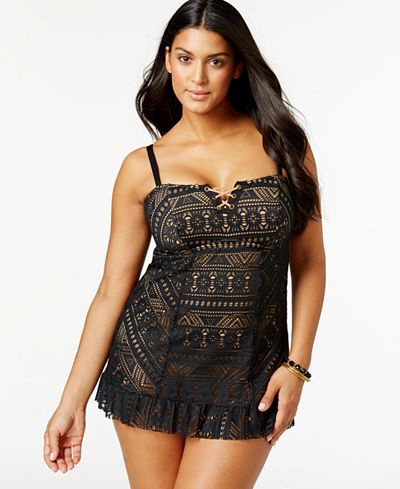 Swim dresses give you more coverage than a traditional suit and now there are options that don't look matronly at all.  Becca ETC La Boheme Swimdress, $110.60.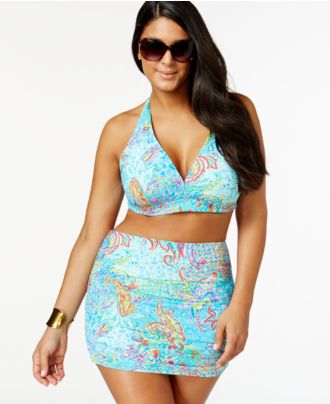 The longer skirt on this Lauren Ralph Lauren Printed Halter Bikini Top & Printed Swim Skirt, $49-$59 provides more coverage to the lower half, while still allowing you to feel sexy on top.
The beauty of having so many options is that you can choose which areas to highlight and which to conceal.  Everyone should feel beautiful and sexy when they hit the pool.
For help choosing the right suit by body type, check out my other guides.
How to shop for Swimwear: For the Gal with Hips
Choosing the Right Swimsuit for Your Bust 
Kate Thakkar